New 5 Car Transporter
Our new trailer has arrived.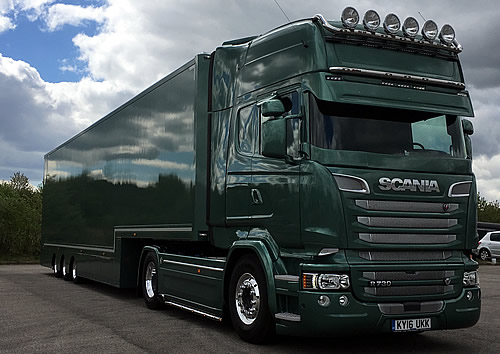 PGVM has just taken delivery of its new custom designed covered car transporter in PGVM green to match up with our Scania. With over 25 years of knowledge in the industry we know that a 'perfect' trailer doesn't exist so we designed one ourselves to suit race cars, track cars and classic cars. Our new covered car transporter is capable of carrying 5 cars and is known as a race trailer as its designed with motorsport in mind. The trailer consists of two decks, the bottom deck is designed so a vehicle can be pushed on to a 'false floor' this then provides room under the vehicles when loaded for spare parts and wheels. The deck can then also be removed when the vehicles are deemed too tall to go on the false floor. The top deck is a flat floor with many anchorage points. Both decks have 'punched decking' this makes strapping the vehicles easier as the straps go over the wheels rather than though which limits damage caused to the wheel. The race trailer comes with a low approach race style tail lift for easy loading so the vehicles can be pushed/driven on to the race trailer with ease. With storage lockers and the bottom of the truck for more car spares this is the perfect truck and trailer that will not only look good in the race paddock over the weekend or on a track day but is also the right tool for the job.
£5 million insurance cover (can be upped upon request)
24/7 Live street tracking
Multi car requests can be spread across transporters for safety
Un-liveried and lockable transporters
Discreet service.